Natural Resources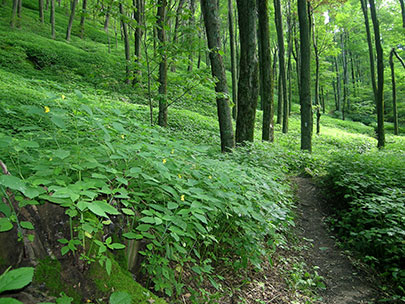 The wood Maple Landmark uses is from native species. We use rock/hard maple primarily, as well as some pine, cherry and oak. These are some of the best materials for wooden toys and gifts, and we are fortunate to have them locally available.
There are virtually no old growth forests left in Vermont; the region was heavily logged in the 1800's. Damaging floods in the late 1800's and early 1900's not only knocked out the water powered mills that processed the timber, but they also taught a lesson in not laying entire mountainsides bare to runoff and erosion. Vermonters have a reputation for being stubborn but we also use our experiences to learn better ways.
In the early 1900's, Vermont was 20% forested. As dairy farms consolidated and abandoned marginal hillside property, the wilderness once again began to take over. Now, Vermont is 78% forested. There is a fair balance between forest growth and the rate of harvest.
The majority of wood that grows tends to be lower grade material. Since we make small items, we are able to use downgraded lumber by simply cutting around the defects. This strategy saves on the demand for the rarer, more premium grades. We also make use of small dimension material that is cast off from other plants.
Just as we are careful to fully utilize the wood we buy, our suppliers are careful about how it is harvested. For the entire history of our company, we have purchased the majority of our lumber from local mills. These mills are typically family owned, multi-generational businesses that steward their own woodlands and work with responsible loggers for timber harvested elsewhere.
What do we do with our wood waste? We have a couple of local farmers who take away our sawdust for cattle bedding. Our wood scraps are put out for locals to use for kindling, wood heat being very common in Vermont in the winter months.
To us, it all seems like the best combination of the right materials, the right people, the right products, all in the right place, that we should be able to produce and market wooden toys for you.