Natural Resources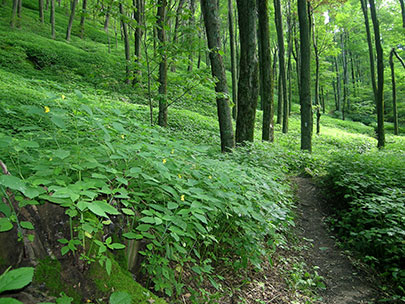 The wood Maple Landmark uses is from native species. We use rock maple primarily, as well as some pine and cherry. These are some of the best materials for wooden toys and gifts, we are fortunate to have them locally available.
There are virtually no old growth forests left in Vermont, the region was heavily logged in the 1800's. Damaging floods in the late 1800's and early 1900's not only knocked out the water powered mills that processed the timber but they also taught a lesson in not laying entire mountainsides bare to runoff and erosion. Vermonters have a reputation for being stubborn but we also use our experiences to learn better ways.
In the early 1900's, Vermont was 20% forested, now it is 80% forested. The forests are growing back, even more rapidly than the rate of harvest. As dairy farms consolidate and abandon marginal hillside property, the wilderness once again begins to take over.
The majority of wood that grows tends to be lower grade material. Since we make small items, we are able to use downgraded lumber by simply cutting around the defects. This strategy saves on the demand for the rarer, more premium grades. We also make use of small dimension material that is cast off from other plants.
Just as we are careful to fully utilize the wood we buy, our suppliers are careful about how it is harvested. For the entire history of our company, we have purchased the majority of our lumber from one local source, Lathrop's Maple Supply of Bristol, Vermont. Tom Lathrop is located just nine miles up the road and supplies not just maple, but pine, cherry, and other species as well. Tom has deep roots in the business, here is his story:
For approximately 125 years my forefathers have been cutting timber and sawing logs in Bristol, Vermont. It all started with my second great-grandfather, Noah Lathrop, a Civil War veteran, who manufactured clapboards and shingles in the late 1870's.

Knowledge of the timber industry has been passed through the generations. I started helping my father mark timber around the age of seven. Dad would instruct me as to which trees needed to be harvested and why. Some had reached maturity, other had damaged tops or trunks which needed to be salvaged. Harvest was always conservative and sustainable, the terms used when I was younger was selective cutting. When I was 12 years old, my grandfather, Clarence Lathrop, worked with me in the planer mill at my father's lumber mill. This mill, called "Claire Lathrop's Band Mill," was voted Vermont's #1 Mill one year.

My goal as owner of Lathrop's Maple Supply is to provide high quality lumber and wood products, primarily from sustainable Addison County forests. I purchase quality lumber from reputable foresters with clients enrolled in Vermont's Land Use Program requiring sustainable harvest methods. These methods are the same ones that the certified sector uses."

- Thomas C. Lathrop, owner/operator
What do we do with our wood waste? We have a couple of local farmers who take away our sawdust for cattle bedding. Our wood scraps are put out for locals to use for kindling, wood heat being very common in Vermont in the winter months.
To us, it all seems like the best combination of the right materials, the right people, the right products, all in the right place, that we should be able to produce and market wooden toys for you.