Dominoes Instructions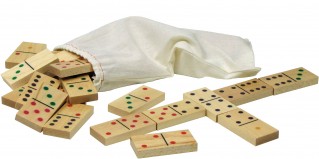 STEP 1
Place all dominoes picture side down and mix them thoroughly.
STEP 2
Each player then picks five dominoes, starting with the youngest player first and then rotating to the left. Play starts and continues in the same order around the table.
STEP 3
To begin, the first player must put down a double domino (one with two ducks, two rabbits, etc.). A player unable to play must draw another from the pile. If it is a double, it can be played. If not, the next player must either play a double or pick.
STEP 4
Once play has started, the next player must match a picture and put it down or draw. A drawn domino can be put down if it can be played. When putting pieces down to match a double, it can be put on any of the four sides. When putting down a piece to match one end, it must be laid end to end. (See illustration) The layout can grow in all directions with any open end being available to match.
STEP 5
If the pile of extra dominoes runs out, a player must pass. The first player to run out of pieces is the winner.
NOTE
For more advanced play with the animals set and Peterson birds set: Since these sets are the same progression as a regular set of double six dominoes, they can be used to play by regular rules if the different shapes are given values 0-6.
Copyright Maple Landmark, Inc., Middlebury, VT 05753