Statements Regarding The Ongoing COVID-19 Outbreak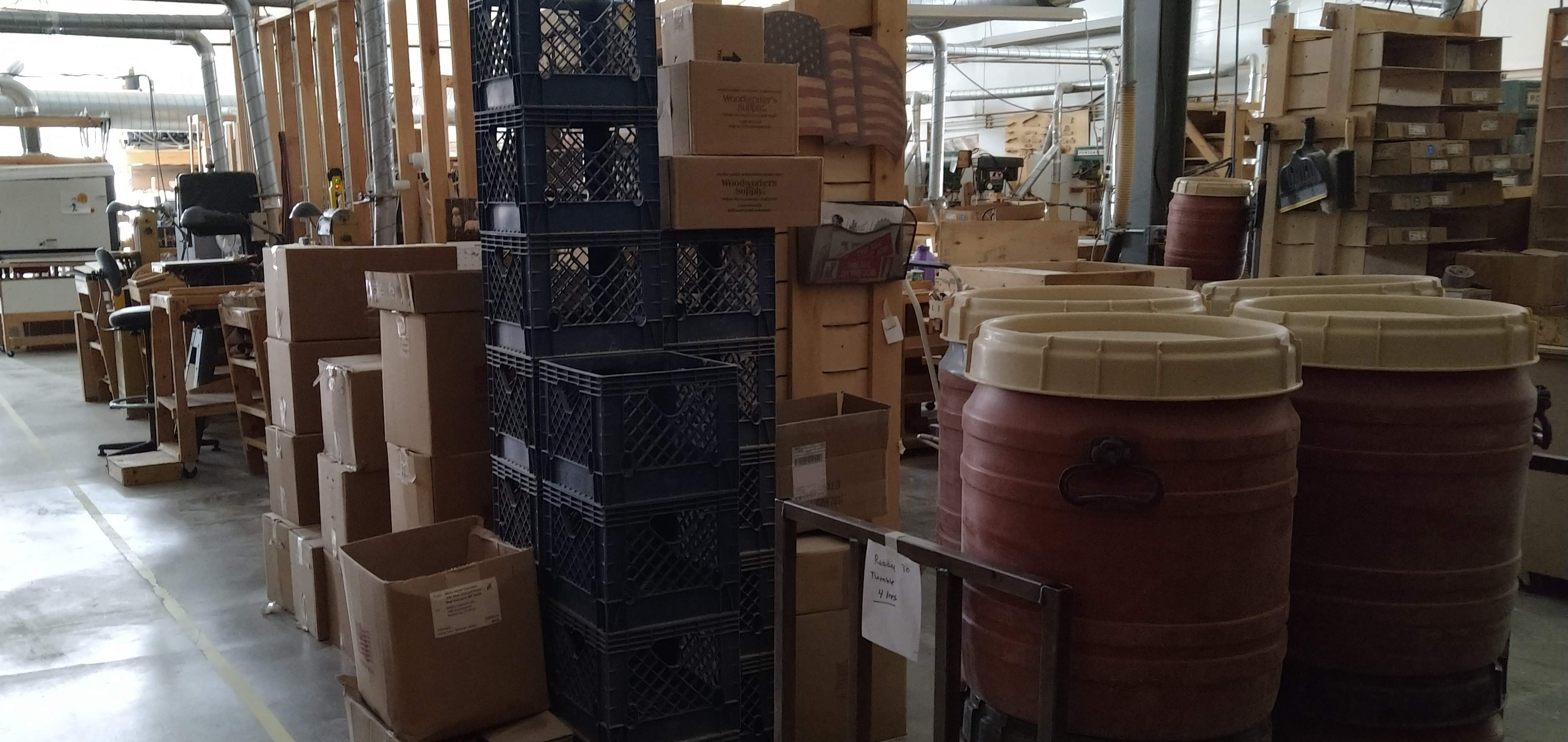 ---
May 26, 2021
After more than a year of limitations and restrictions, we are excited to be returning to normal life. Production is operating at full capacity and the showroom is stocked for visitors. If you are interested in stopping by, please review our Visit Us page for the latest updates on hours and tours.
We expect this to be the final update of this blog post. If you have any questions, feel free to contact us. Thank you to everyone who has supported us during this unusual time!
---
May 15, 2020
Here at Maple Landmark, things are returning to nearly normal. All employees were called back this week and production is getting back on track. We are sanitized, masked, and distanced. Inventories are in good shape so we can process orders as usual.
Our showroom will reopen on Monday, May 18 with our regular hours. We will be limited to 4 visitors at a time and masks will be required. Shop tours will remain suspended for the time being.
We appreciate the support we have received through our downtime. With careful planning, a little luck, and ample immediate family, we were able maintain almost all demand during that time.
---
April 27, 2020
In a welcome sign of progress, the Vermont governor announced Friday that manufacturing facilities (including our own) may resume with limited employees and under strict guidance from health officials. While we can't bring our staff back to full capacity right away, we are starting to open up and will have greater flexibility moving forward. Notably, our name puzzles are available again. Additionally, if you are interested in a custom order, please reach out and we can begin the process. Your continued support is appreciated, as always.
---
April 21, 2020
On April 10th, Vermont Governor Phil Scott extended the state's stay-at-home order through May 15th. This means that our production floor remains suspended and retail showroom is closed until the order expires or Governor Scott lifts the restructions.

As it stands, we are still shipping from inventory and would be happy to fulfill your order. If anything is out of stock, it will be noted as such.

Thank you for your continued support. Please contact us if you have any questions or comments.

The Rainville Family & The Maple Landmark Crew

www.maplelandmark.com | P: 800-421-4223 | F: 888-388-0761 | thefolks@maplelandmark.com
---
March 25, 2020
After today, we are regrettably suspending production in the woodshop and closing our retail showroom until April 15th, per the directive of the governor of the State of Vermont and to ensure everyone's safety. We will continue with a small crew (immediate family) to ship products from inventory and take care of other necessities. Please go ahead and order anything you may need from our website, over the phone, or by email. We'll get it packed up and shipped out as soon as we can. A few items will be noted temporarily out of stock.

If you are local, feel free to give us a call (388-0627) and we can arrange for no-contact pickup.

If you have any other needs, call us and we'll be happy to talk to you (anybody!).

Thank you for your continued support and we look forward to resuming business as usual.

www.maplelandmark.com | P: 800-421-4223 | F: 888-388-0761 | thefolks@maplelandmark.com
---
March 16, 2020
Effective immediately, tours are suspended in the interest of safety for our employees and the public until further notice. Our store and play train remain open as usual for those wishing to visit.
---
March 13, 2020
Dear Friends,

The past few days have presented many challenges and uncertainties. As we move through these uncharted waters together, we want to reach out and let you know that we are here for you. We are up and running, making the toys, games, gifts and decor that you have come to enjoy. Being that we are in the toy business, we realize that it is vital in these times that we try to keep things as normal as possible for our children. Our shop is busy making toys and games so that the children can play and have fun, which is what children are supposed to do. As schools close, we encourage you to use this as an occasion for family time. Strive to keep the children occupied and their minds off of the stressful reality of cancellations, news flashes and travel restrictions. Perhaps use this as an opportunity to remind children about the importance of good hygiene to keep themselves, and others, healthy.

Stay well in mind and spirit. We are here, if needed. We look forward to serving you and producing your favorite wooden products.

The Crew at Maple Landmark

www.maplelandmark.com | P: 800-421-4223 | F: 888-388-0761 | thefolks@maplelandmark.com
Next Blog Post
If you have used our website in the past, you've probably noticed by now that this is a brand new look! We are excited for you to explore this new site and see all of the great things that we have to offer.…